By Gen Gillespie and Mac Davis

At Belong Health, we encourage local, community-oriented health plans to take full advantage of the opportunities a D-SNP can unlock. There's no better or more comprehensive way to attract market share and deliver a comprehensive patient experience to elderly and disabled people. 
Because of its innate complexity, every D-SNP launch should be preceded by thoughtfulness and thorough planning. Want to get a head start on securing the capabilities and processes required to manage a diverse and growing D-SNP population? Make sure to keep these assets in mind: 
A Competitive Mindset
As national carriers are typically locked into a Medicare-oriented business planning model (and often pay little attention to social determinants of health), regional providers enjoy competitive advantages in their consideration of the D-SNP space. 
For starters: local providers are deeply rooted in the communities they serve — and can turn to community-based grants to drive sales and marketing at a ground level. Day after day, they're well-positioned to engage and form bonds with a "captive" local audience. 
Meanwhile, national carriers enter and exit geographies at will, "churning" through counties with little regard to local needs or specificity. 
Across a competitive landscape, regional and local models should embrace this powerful opportunity to differentiate themselves from the pack and to chart a bright future — perhaps by helping existing membership transition into Medicare products as they reach eligibility.  
Adherence to a Timeline 
Unlike Medicaid, Medicare follows a rigid and reliable timeline — one that offers no room for errors in planning. Miss an important deadline in bidding or filing? You'll be stuck waiting a full year before you can try again.  
As just one example: a July 2024 launch necessitates a "signal of intent" due in February 2023, a formulary due in June 2023, and a marketing launch in October 2023. And that's all without considering numerous stakeholder conversations that should precede any of these stages. 

Launching a D-SNP demands precision, foresight, and focus. Even before considering the bid and readiness process, providers starting from ground zero (with only Medicaid, no Managed Long-Term Services or Supports or behavioral health components) should plan for an additional one-and-a-half to two years of strategizing with board, executive, and financial teams.  
Understanding of Financial Risk
Since Medicare financials aren't based on the rate-setting process with the state, the launch and sustainability of D-SNP are subject to considerable market pressures. This complex reality can call for some tough math when serving the D-SNP population. Whereas Medicare bids are against the local fee-for-service target amount, stepping away from such guardrails in establishment of a D-SNP means more responsibility for overall management falls on the provider's end. 
Where Medicaid inherently provides scope and scale, sustaining a D-SNP requires that the enrollment of medically complex communities stay high, if only to squarely address the fixed cost of running a Medicare program.  
Under such a market-driven process, be prepared to absorb energy and effort, in the form of operationally driven risk, that would typically fall to Medicare. This heavy lift will be especially needed if transitioning from a Medicaid-only scenario.  
Shooting for the 'STARS'
When compared to Medicaid, Medicare demands far more hands-on revenue management and more comprehensive quality management — as well as a host of key decisions that directly impact risk profile and performance metrics. The most comprehensive of these metrics, in the eyes of Centers for Medicare and Medicaid Services (CMS), is STARS. 
Essentially a credit report on your plan's performance, STARS is comprised of more than 40 measures, from process improvement to patient experience. Its five-star scale ultimately impacts consumer plan choice, bonus payments, and other assets that keep plans robust and healthy. 
But these rewards don't roll out immediately. STARS ratings are applied retrospectively, after assessment of a plan's prior two years of performance. In other words, a strong STARS metric requires a healthy launch on day one, the benefits of which won't be reaped for another two years — and you'll of course want to avoid any slip-ups in-between. 
As 81% of Medicare enrollees have been found to select plans that earn four STARS or above, maximization of your STARS score is one key benefit you can't afford to overlook. 
Comprehensive and Accurate Coding for Risk Adjustment 
Though it is a routine methodology, reducing the health status of a beneficiary to a numerical "risk score" has long been imperfect and impersonal.  
In contrast, tapping into a case mix of beneficiaries from across the health spectrum works to unlock access to quality healthcare regardless of a patient's health history, with the aim that all patients be treated equitably.  
Providers can play a key role in establishing this norm, by linking with health plans to bring valuable benefits that attract enrollees. Insurers can use premiums and risk adjustment payments, for example, to offer exercise and care management programs, disease management programs for chronic conditions, transportation to medical appointments, and more. 
Launch of a robust D-SNP program allows leverage of diagnosis codes, which providers submit to claims, to design personalized and inviting plans to a diverse range of beneficiaries. The result means stronger medical and psychosocial health across a community and ultimately reframes the value of a "risk score."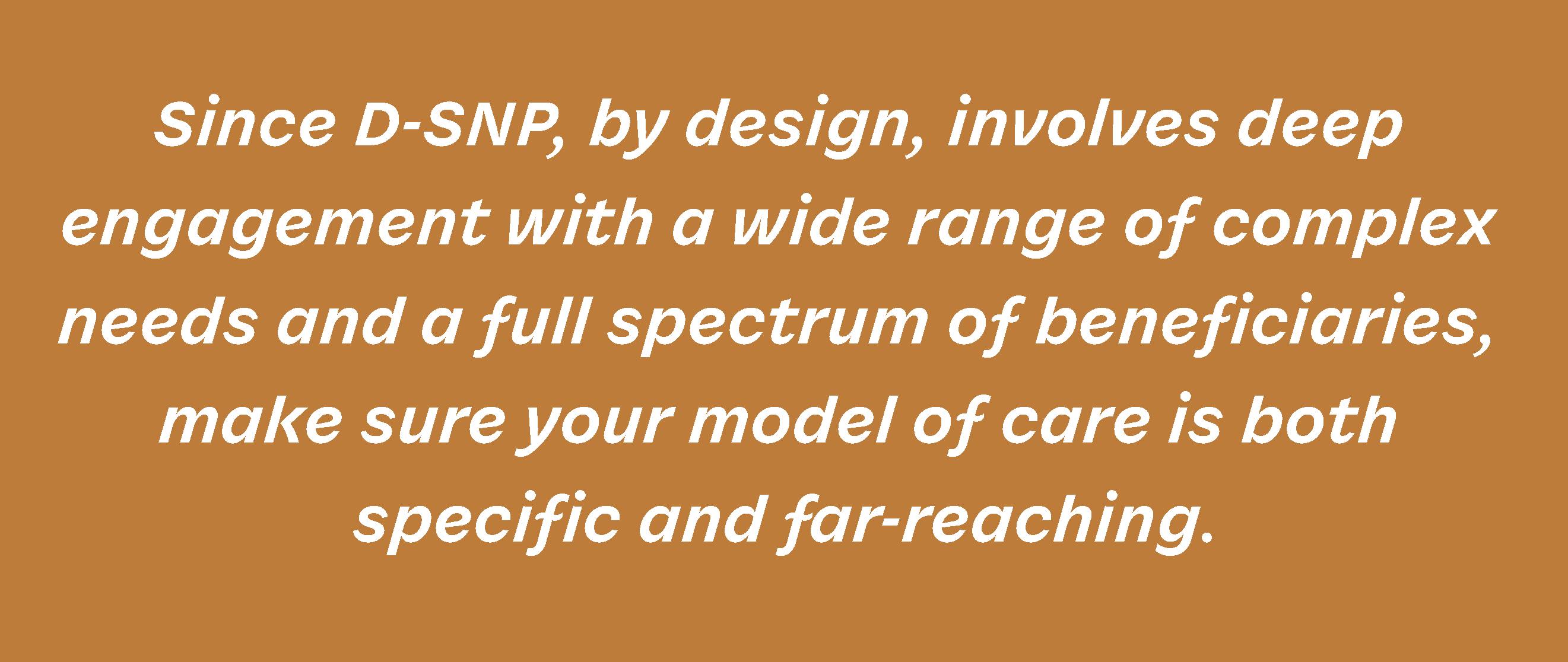 Establishing an Appropriate Model of Care
Six months before launching a D-SNP, you'll need to decide upon your model of care and codify its parameters in a regulated document. But be warned: once you've decided on your model, your regulated document becomes fixed and unchanging. 
Since D-SNP, by design, involves deep engagement with a wide range of complex needs and a full spectrum of beneficiaries, make sure your model of care is both specific and far-reaching. Think about specializations and needs well beyond those of the general Medicare population. Consider a range of mental illnesses and disabilities. 
And remember: the elements of the D-SNP population that may make other insurers leery are now yours to embrace. A wide pool of beneficiaries is waiting to be explored, and you'll need to serve and understand them responsibly in order to reap the benefits. 
Executing a Sales Strategy from a Position of Strength
Without a pre-existing Medicaid or D-SNP setup, it's challenging for Medicare Advantage plans to enroll members. For this reason, your existing Medicaid members, if you have them, may just be among your strongest marketing assets. 
But you'll need to keep their numbers up — preferably in the thousands — to enjoy a competitive and sustainable scale. In fact, targeted emphasis on enrollment must be a prominent focus of your first three years. 
But how? Lean on community-focused, shoe-leather marketing efforts. Immediately ramp in Medicaid members who become newly eligible to Medicare. Just as important: advocate for your state to support default Medicare enrollment. 
However you guide members to Medicare, aim for at least 70% transition and enrollment, and to make that enrollment process as seamless as possible — all while paying adherence to strict compliance rules, of course. 
Developing your Provider Network
When a beneficiary meets with a healthcare broker, their key questions of interest are: 
What plans are available in my geography? 
Are my physicians in network? 
Are my drugs covered? 
Then, according to the Kaiser Family Foundation, 57% of beneficiaries never check on that data again. They simply stay with their respective plans, and inertia sets in. 
As a result of this pattern, most Medicare products today offer a narrow network of offerings. Such an oversight leaves numerous beneficiaries, once they age into new needs, primed to be scooped up by more community-conscious services. 
Position yourself to excel in those services. For your own D-SNP launch, lean into add-on options and networks designed to capture and serve your members not just today, but for the long game.